What do Mindy Kaling, self-care, and CRM platform software have in common? More than you think.
In case you missed it: Zendesk Relate 2018 in San Francisco was our biggest, busiest flagship event yet. Conferences often carry a built-in buzz, designed to cram as much information into as few travel-approved days as possible. Still, and don't tell the other tech conferences, not all the tools in your customer experience toolkit are the technical, scribble-them-into-your-notebook kind. And not all of them should be relegated solely to your work life.
That's why we invited Cleo Wade to talk about community-building and social justice; why Jenny Dempsey's reminders about self-care resonated with anyone who has carried stress into or out of a customer service interaction; and it's why we asked Mindy Kaling to tie it all together, reminding us of the connective tissue between empathy, relationships, and customer service. After all, she once played a customer service rep on The Office, she joked, before candidly opening up about her current work and how she balances it with her newest role as a mom.
It's also why we encouraged attendees to volunteer, helping them experience firsthand how stepping away from a work setting can impact your approach to work while also benefiting the greater good. Without even leaving the conference, 35 volunteers assembled harm reduction kits for GLIDE and participated in a VR experience with the Curry Senior Center.
"You found a way to integrate the core tenets of good customer service like empathy and thoughtfulness into a tech conference," says Mia Swift, an attendee from Yext.
Sarah Reed, Sr. Director of Content and Event Marketing at Zendesk, says her team will continue keeping those core tenets of customer service front and center because they are also core values of the company. GLIDE and Curry Senior Center, for example, are year-round, longtime community partners.
How does your garden grow?
Now aged in double digits, Zendesk has expanded into more than "just" customer service software. Part of maturing as a company also means breaking free of the confines around a tech conference. In other words, Zendesk Relate is not "just" about product announcements (Hello, Sunshine, Sell, and Explore)—it's also about breaking free from existing ways of doing things. Modern businesses are challenging outdated processes and changing the ways they interact with customers.
Part of maturing as a company also means breaking free of the confines around a tech conference.
"After coming home from this conference, I truly feel motivated and excited to do better for our company, for our Customer Care team, and for our members," says Lauren Blovari from Breather.
Just as each business is tasked with creating memorable experiences for their customers, the team behind Zendesk Relate works to create memorable experiences for attendees. Palpable moments like the closing performance by the San Francisco Gay Men's Chorus and CEO Mikkel Svane's gold suit—a bold fashion choice in any setting, let alone to announce a new product—reminds everyone in the room that they're a part of something special, Reed explains.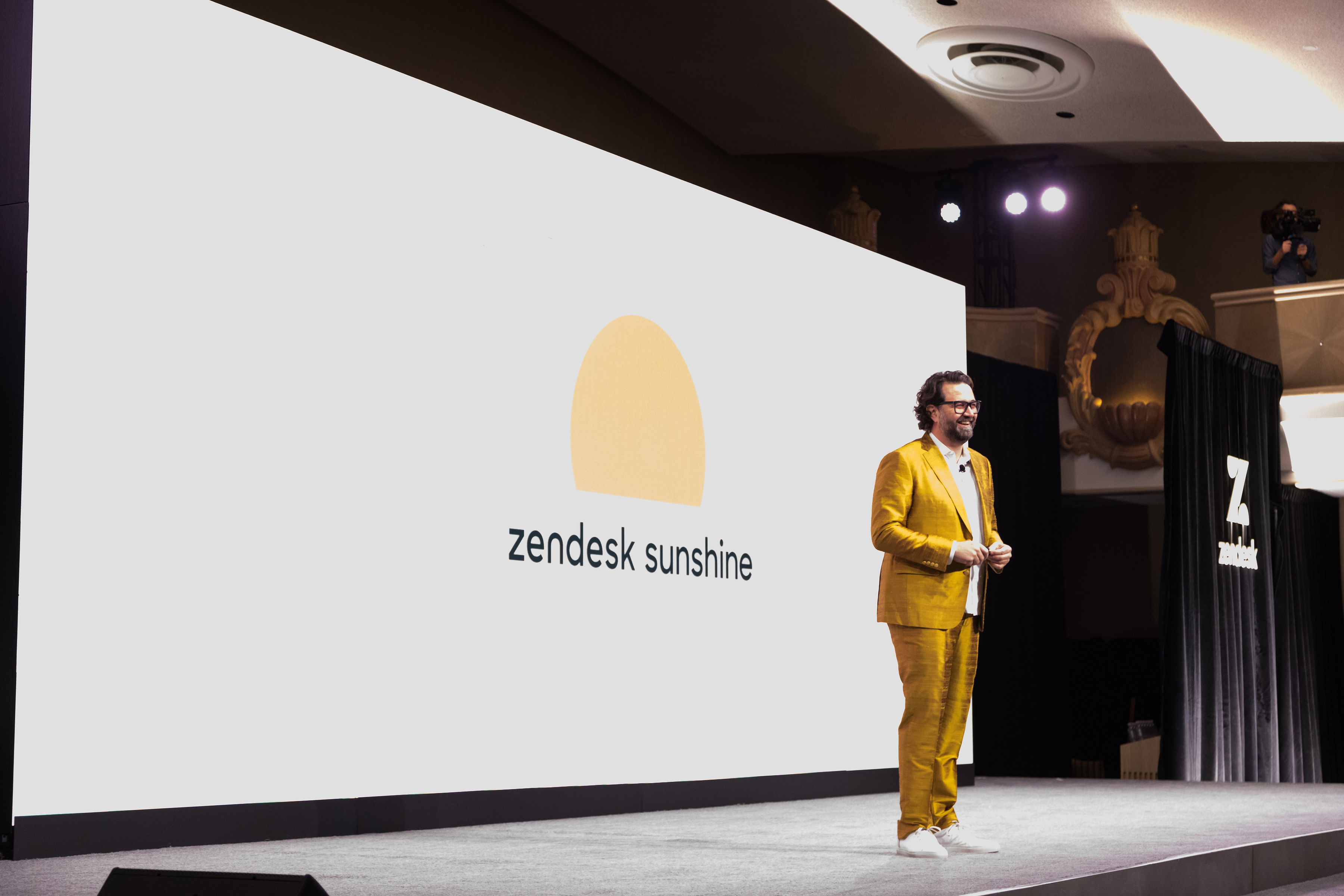 The dark days are over. Learn more about Zendesk Sunshine.
Read about the SF Gay Men's Chorus and their Lavender Pen Tour.
"We've all been to a lot of conferences and a lot of trade shows," says Reed, who ran global contact centers in a previous life. "There are very few that still stick out to me, that I can go back to and say that was incredibly memorable, remarkable, or meaningful. Our goal is to create an event that's all three of those."
In that spirit, the event planning process is always a learning experience and it's always iterative, says Reed. One of the biggest challenges this time around was personalizing new experiences for developers, for admins, and for the C-suite—difficult but essential when you have, as Reed says, "your entire ecosystem represented in one place."
"It shows that we are growing up, that we've become a true technology leader," Reed says of those different tracks. "An event is a phenomenal place to showcase that."
Looking forward: still a little "weird and wonderful"
Relate is moving from November to March—specifically March 2020 in Miami, Florida. Spring provides a more seasonal opportunity to kick off the year with excitement, and it gives teams room in the calendar year to implement what they've learned after they return home.
Furthermore, Miami, Reed explains, is a surprise. It's not a big city for tech conferences. Zendesk doesn't have an office there. But the city does boast a beautiful, newly renovated convention center, conducive to indoor/outdoor activities—an added treat, since it'll still be wintery in much of the United States and the world. The city-venue combination provides a good slate on which to execute the developing event vision, putting what the team learned from this year into practice.
On that note, here's what Reed says is in store:
Larger spaces for keynotes and breakout sessions
Even more personalized experiences, building on the opportunities to meet executives, have product conversations and training, to network with peers or volunteer, and to experience all the little surprises along the way, be it a donut wall or a special invite-only event, like our Women in Leadership conversation with Molly Bloom.
Special keynotes and product announcements. (We like to feel a little starstruck, too.)
"For now, we're getting to work," Reed says. In the meantime, connect with Zendesk at one of many regional events that will run throughout 2019 or, if you're ready for some heat, sign up now to join us in Miami.